Four Cheese Ravioli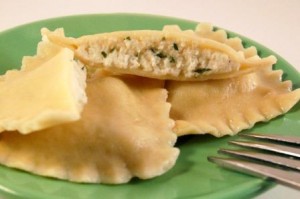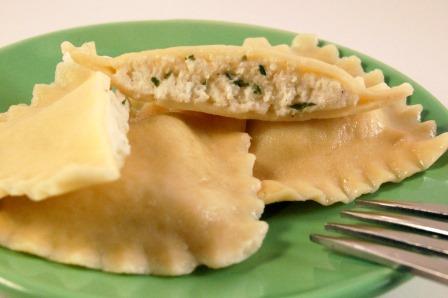 Gluten Free Four Cheese Ravioli: Square shaped pillows of gluten free egg pasta dough generously filled with a delicious blend of 4 cheese, herbs and spices. All natural. This product is manufactured in a 100% dedicated gluten free facility certified by the Gluten Free Certification Organization.
Ingredients:
DOUGH: Whole Grain Brown Rice Flour, Modified Tapioca Starch, Eggs, Xanthan Gum, Salt, Water
FILLING: Whole Milk Ricotta cheese (sweet whey, whole milk, sweet cream, culture, vinegar and salt), Asiago Cheese (part skim milk, cheese cultures, salt, and enzymes), Romano Cheese (pasteurized cow's milk, cheese cultures, salt, and enzymes), Parmesan Cheese (pasteurized part-skim cow's milk, cheese cultures, salt and enzymes), Dehydrated Potatoes (100% Potatoes), Salt, Spices
ALLERGENS: Eggs, Milk
Nutrition Facts:
Serving Size: 4 oz (113g)
Servings Per Container: 2
Amount
Per Serving
% Daily Value*
Calories
Calories from Fat
Total Fat
Saturated Fat
Trans Fat
Cholesterol
Sodium
Total Carbohydrate
Dietary Fiber
Sugars
Protein
Vitamin A
Vitamin C
Calcium
Iron
260
80
9g
4.5g
0g
80mg
600mg
36g
2g
0g
12g

14%
22%

27%
25%
12%
7%

0%
110%
15%
8%
*Percent Daily Values are based on a 2,000 calorie diet.