Portobello Mushroom Ravioli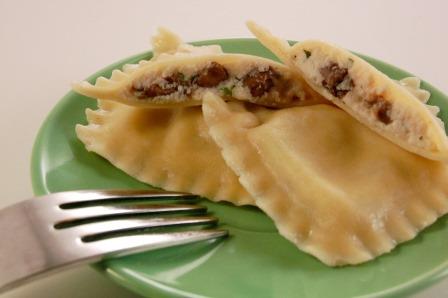 Gluten Free Portobello Mushroom Ravioli: Square shaped pillows of GF egg pasta dough generously filled with a delicious blend of portobello mushrooms, all natural cheeses, herbs and spices. This product is manufactured in a 100% dedicated gluten free facility certified by the Gluten Free Certification Organization.
Ingredients:
DOUGH: Whole Grain Brown Rice Flour, Modified Tapioca Starch, Eggs, Xanthan Gum, Salt, Water
FILLING: Whole Milk Ricotta cheese (sweet whey, whole milk, sweet cream, culture, vinegar and salt), Portobello Mushrooms, Parmesan Cheese (pasteurized part-skim cow's milk, cheese cultures, salt and enzymes), Romano Cheese (pasteurized cow's milk, cheese cultures, salt, and enzymes), Dehydrated Potatoes (100% Potatoes), Natural Mushroom Base (sauteed mushroom, sea salt, butter (sweet cream, annato), yeast extract, natural flavorings, spice & vegetable extract), Salt, Spices
ALLERGENS: Eggs, Milk
Nutrition Facts:
Serving Size: 4 oz (113g)
Servings Per Container: 2
Amount
Per Serving
% Daily Value*
Calories
Calories from Fat
Calories from Saturated Fat
Total Fat
Saturated Fat
Trans Fat
Cholesterol
Sodium
Total Carbohydrate
Dietary Fiber
Sugars
Protein
Vitamin A
Vitamin C
Calcium
Iron
230
70
35
8g
4g
0g
75mg
720mg
32g
3g
1g
10g
12%
21%

24%
30%
11%
10%

10%
*Percent Daily Values are based on a 2,000 calorie diet.
Find A Selection of Our Pasta in Your
Local Retail Stores and Restaurants