Cooking Safe Dishes with
Leo's Gluten Free Pasta
How To Prepare Leo's Gluten Free Pasta

Since Leo's Pasta is 100% gluten free as an ingredient, kitchen staff also needs to ensure that pasta sauces and the rest of the meal is gluten free as well. The following are 4 key areas of additional consideration when cooking gluten free Italian dishes.
1. Ensure Gluten Free Italian Pasta Sauces
Always be sure the pasta sauce is NOT thickened with wheat flour and/or NOT made from a roux which contains wheat flour and butter. Below is a list of Italian sauces that are typically gluten free:
Alfredo: butter, cream and Parmesan cheese
Bolognese: pancetta, ground meat, tomatoes, onions and garlic
Carbonara: butter, eggs, pancetta, pecorino & Parmesan cheese
Marinara: basil, garlic, olive oil, onions, oregano, tomatoes and possibly Parmesan cheese and anchovies
Pesto: garlic, olive oil, basil, pine nuts, Parmesan cheese and possibly cashews
Piccata: lemon, capers, white wine and butter
Pomodoro: tomatoes and herbs
NOTE: Two common Italian sauces that typically CONTAIN bread crumbs and wheat flour include:
Agliata: garlic, bread crumbs, olive oil and vinegar
Pesto Ericino: almonds, basil, bread crumbs, garlic, olive oil and tomatoes
2. NO Wheat Flour Dusting for Meats and Fish
Typically, most Italian restaurants prefer to flour dust chicken, veal and fish prior to pan frying which allows a sauce to be evenly distributed. Ensure no wheat flour dusting for any gluten free meal.
3. NO Battering and Breading in Gluten Free Dishes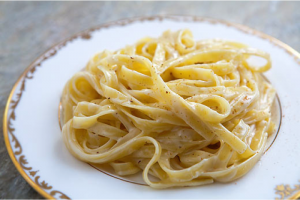 Wheat flour is typically used for battering and breading in Italian cuisine. Bread crumbs are also regularly used as an ingredient in appetizers, soups and entrees. When preparing gluten free meals, ensure NO battering, breading or bread crumbs made from wheat flour are utilized as ingredients.
4. Ensure Gluten Free Stocks and Broths
Stocks and broths are typically used in sauces and soups, as well as in marinades for meats and vegetables. Ensure all are made fresh or from gluten free mixes and not from packaged bouillon, which may contain gluten and wheat.
Standard processes and protocols for addressing special dietary needs need to be understood by all personnel in the front and back of the house. This education will produce consistent gluten free dining experiences for each and every customer, resulting in repeat customers and increased revenues.
---
Share Your Recipes
We love great food so if you have a favorite gluten free pasta recipe you would like to share, we would love to hear from you!
Contact Us or Send Us Your Recipe via Email at info@LeosGlutenFree.com